The proxy assignment process is basically unchanged from last year. Remember, you must either assign a proxy holder OR attend the annual meeting in order to participate in the election.

WM Owners, Inc. recommends the following:
Here is a completed recommended proxy: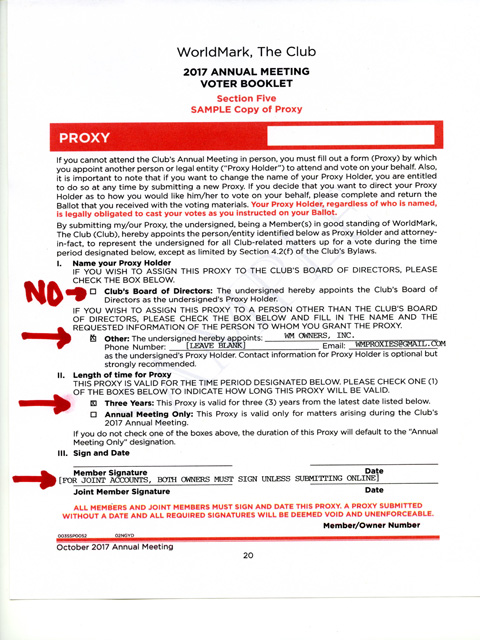 Here are the detailed instructions and voting recommendation:
Step 1: DO NOT assign your proxy to WorldMark's Board of Directors.
Assign your three-year proxy to
WM Owners, Inc.
- The phone number is optional. Leave it blank. WM Owners, Inc. does not have a telephone number. The telephone number is requested so that the election tabulator can contact the proxy holder to ensure that the proxy holder is aware that they have proxy assignments and must be present at the annual meeting to cast the ballot for those proxies. The election tabulator knows how to contact us.
- The email address is optional and may be left blank. It is requested for the same reason as the phone number. You may enter
wmproxies@gmail.com
, but it is not required.
WM Owners, Inc. is a well-known proxy holder and respected not-for-profit corporation consisting of WorldMark owners dedicated to promoting the interests of WorldMark owners.
Even if you recently assigned your proxy to WorldMark's Board of Directors, you can reassign your proxy again at any time.
Step 2: Do not submit the "ballot" form.
If you assign your proxy online, ignore warnings implying that you have not voted or completed the ballot form. The ballot form is not required.
By not submitting the ballot you are:
- authorizing WM Owners, Inc. to vote on your behalf at the Annual Meeting in October 2016 in the manner determined by WM Owners, Inc. to be in the best interest of our Club.
- allowing WM Owners, Inc. to cast both votes, as a block, for a single candidate.
Submitting the ballot form is optional. If you submit the ballot form you are "directing" your proxy holder how to cast your votes. The problem with marking and submitting the ballot is that many owners do not understand that they can vote both votes for a single candidate.
Many owners who submit the ballot cast their two votes for two different candidates thereby splitting their votes. By doing so you are diluting your vote and increasing the likelihood that neither candidate will win. Owners who divide their votes are ensuring that the winning candidates will once again be those who receive votes from Wyndham as the developer, and votes from Wyndham by virtue of proxies assigned to Wyndham's majority controlled WorldMark Board of Directors.
Do not shoot yourself in the foot. Cast both votes for a single candidate.
If you feel more comfortable by marking and submitting your own ballot, we recommend that you
MARK BOTH BOXES FOR MYLE HAMMOND.Step 3: Forward a copy of your proxy assignment to wmproxies@gmail.com
so that WM Owners, Inc. has a record of your assignment.
WorldMark's election tabulator does not provide ANY owner contact information to proxy holders. Therefore, if you assign your proxy to WM Owners, Inc. we have no way of knowing unless you tell us (by email message) that you have assigned your proxy to us.
By knowing that you have assigned your proxy to us, we can validate the list of proxy assignments provided to us by the election tabulator following the election. There have been errors in the tabulator's information in past years. To the extent possible (we are talking about thousands of proxies), we perform a comparison of known proxy assignments with the list provided by the tabulator. This list is provided to us approximately one week AFTER the election.
Our volunteers attempt to acknowledge each proxy assignment that we receive with a brief thank-you note (email).
Together we can make a difference.
Thank you for your continued support,
WM Owners, Inc.
Board of Directors